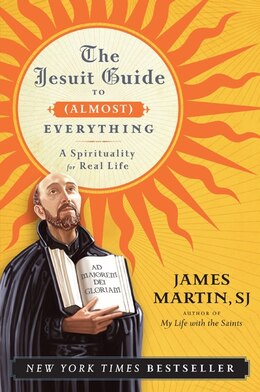 This is a popular book on contemporary spirituality by Jesuit James Martin.  He is a popular communicator who appears on CNN and is an editor of America Magazine: http://americamagazine.org/
I learned a lot from this book – a guide to understanding and applying Jesuit spirituality in everyday life.  I must say I was surprised at the light hearted way that (many) Jesuits carry themselves.  There are many humerous anecdotes that liven the discussion:
"A Franciscan, a Dominican and a Jesuit are celebrating Mass when the lights suddenly go out in the church.  The Franciscan praises the chance to live more simply. The Dominican gives a learned homily on how God brings light to the world.  The Jesuit goes to the basement and fixes the fuses."
Jesuit spirituality is defined as "Contemplatives in action who seek to find God in all things by looking at the world in an incarnational way, and in their quest, realize their desire for freedom and detachment, which helps them move even closer to God."
I particularly liked his discussion of the various paths people take to God.  I find myself respecting each of these paths by no longer seeing any path as better than another:
Belief for those who have Faith in God (and never wavered)
Independence for those who make a conscious decision to leave organized religion
Disbelief, those who have arrived at an intellectual conclusion God does not exist
Return, those who have returned to their Faith in a newly committed way
Exploration, seeking growth through interaction with other religious traditions
Confusion, running hot and cold with their Faith
His discussion of "chastity" vs. "celibacy" is a real eye opener.  Religious order priests make a vow of chastity – abstaining from any sexual activity.  Diocesan priests vow only to not get married.  There is a big difference and the RC Church seems in no hurry to clarify this ambiguity.
There is much practical advice on the Examen (examination of conscious), the Spiritual Exercises, how to make better decisions through discernment and how to become the person God wants you to be.  There is a lot of emphasis on defining your desires at each stage of your life and then seeking God's support through prayer in achieving them.
My only regret is that I wish that I had read this book some 40+ years ago when I was starting out as an adult…  A superb book to read for anyone at any age, 9 out of 10.